WEB-201 On-line Tracking Panel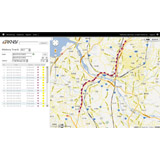 GPS Tracking System Solution is one of our best selling products, featuring its quality and competitive price. Please feel free to contact us if you want to know more about GPS Tracking Software. As a customer-oriented company, we are more than happy to provide detailed information for you. Can't find the right tracking solution / tracking software for your project? Well you've come to the right place, work with us and we can help you develop the tracking devices / GPS trackers that meet your exact criteria. As is sometimes the case, not all GPS trackers can fit all applications. ARKNAV has been in the business for many years and has developed countless customized GPS tracking solutions from our standard products to meet customers' specific requirements. With our experience in project management and R&D development, ARKNAV is your best partner to help you create your own niche. Here are some examples of the existing solutions we have. If you have a special project, please contact us at: sales@arknavgps.com.tw for evaluation and further information.
1. A system to help you save money: The core modules of WEB-201 GPS Monitoring & Surveillance System Solution are ARKNAV's own R&D. You do not have the burden of annual mapping licensing fees. Web based system saves your server maintenance cost.
2. High Expandability: Install the system according to the usage in a single machine or adopt a distributed architecture installment on multiple servers. Expandability on hardware for process loading on monitoring to increase system capacity with no service interruption.
3. High Diversification: Can be used with all kinds of vehicles and supports wireless networks including GSM, PHS, GPRS, SMS, USSD, HTTP and the Socket communication transmission mode to achieve the best price / performance ratio.
4. Diverse Monitoring Interface: Web based interface for remote monitoring as well as from wireless devices such as smart phones and PDA.
5. Modularized Functions: The system is designed with a modular design. WEB-201 GPS Monitoring & Surveillance System Solution can be easily customized with new functions according to the customer demand to meet business needs.
Map View :
▸ Real-time locations
▸ Events and Alerts
▸ Service Reminder
▸ Function short-cut
▸ Real-time Video Streaming
▸ On-demand Video Retrieving
History Playback :
Geo Fence
▸ Group Multiple Geo Fences
▸ Mark circles,polygons and polylines
▸ View Geo fences on map
Analysis and Reports :
▸ Fleet performance
▸ Geo-fence
▸ Alert events
▸ Trip Summary
Special Feature :
▸ Forward alert events
▸ Configure tracking system over the air
▸ Customize alert events
▸ Working hour setting
▸ Out-going message schedule