2013-10-09
Daily-wear ECG monitoring device for Health Management
ARKNAV, sponsored by Taiwan government, has developed an innovative heart disease detection technology, an ideal solution for health management system, applying to the elderly, patients, people with heart disease, and the antecedents of heart disease. With two-year clinical trial at a nursing home at Taichung JenAi Hospital, eKARDIA ECG Health Management Solution is considered as the best helper of doctors and nurses. A Wireless ECG Pad is placed directly onto the patient's chest which communicates electrocardiogram data from the patient's heart via Bluetooth to smartphones or a receiver.
Details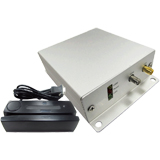 2013-09-11
RV-7 with Magnetic Card Reader
Driver management is an important task on managing fleets. Many companies operate vehicle fleets where drivers are not particularly assigned to any specific vehicle resulting multiple drivers using different vehicles on various days may have difficulty on identifying and keeping track of driver task with which vehicle on a given day.
We use cookies to improve your user experience and for web traffic statistics purposes. By continuing to use this website, you agree to our use of cookies. Our Privacy & Cookie Policy contains more information on such use and explains how to disable cookies.